About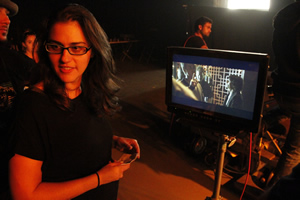 Anna Mastro's independent feature film WALTER was released in 2015. The film stars Andrew J. West (The Walking Dead), William H. Macy, Virginia Madsen, Jim Gaffigan, Neve Campbell, Justin Kirk, Milo Ventimiglia and Leven Rambin. The LA Times said Walter is "Lovely and touching... Director Anna Mastro coaxes a sympathetic performance from West." The New York Daily News said the film is "crisply directed."
Anna has directed award winning music videos for artists such as Train, DJ Havana Brown, Leona Lewis, Kristen Kelly, Alex Band, Carbon Leaf, Stellastarr*, Wanting Qu, The Dan Band, Matt Goss, Victoria Justice and The Pussycat Dolls and celebrities such as Olivia Palermo, Wolfgang Puck, Katy Perry, Becky G, Meg DeAngelis, Kevin Pollak and Atlanta De Cadenet are often featured in her work. Her 2013 National campaign for Los Angeles and Campbell Ewald premiered throughout the Final Four, and her other commercial and brand work includes a series of fashion films for the Zac Posen for Five Plus 2015 campaign, Nickelodean's Kids Choice Awards, Degree, Alfred Angelo Bridal, Nascar, Yas Fitness, Caesar's Palace Las Vegas, Outward Bound (for which she received a Telly Award), Mastercard, The Warped Tour, and ROYAL CRUSH, a scripted series for Royal Caribbean and AwesomenessTV which has received more than 30 million views over the course of two seasons.
Anna directed the short film BENCH SEAT. Written by Neil LaBute with music and lyrics by Teddy Geiger, this musical short film was an official selection in over 30 film festivals worldwide. The film was nominated for the Short Grand Prix at the Warsaw International Film Festival, a semi Finalist in Ridley Scott's Your Film Festival and won the Best Short Film Award at the 2012 Fort Lauderdale International Film Festival.
Anna also directed episodes of GOSSIP GIRL, AWKWARD., FINDING CARTER, NO TOMORROW, and multiple episodes of JANE THE VIRGIN, in addition to all six episodes of the Hulu limited series GUIDANCE for AwesomenessTV starring Michelle Trachtenberg and was the first scripted series on Go90. She is currently directing a second series for Go90 starring Karie Findlay, Craig Stickland, Calum Worthy, Meg DeAngelis and Harley Morgenstein to be released in December 2016. Written by Kyle Jarrow, LOST GENERATION is a 12 episode series, and original Duncan Sheik (Spring Awakening, American Psycho) EDM musical, about expats living in Berlin.
Upcoming feature projects include F*ucking Jane Austen by Blake Bruns, a comedy that was on The Blacklist and Alix, a female driven creature film, written and produced by Matthew Peterman (The Devil Inside/WER), and Anna is writing and directing a remake of the Belgium film Aanrijding In Moscou, which won best picture at Cannes Critics Week.